Auditions
Over the River and Through the Woods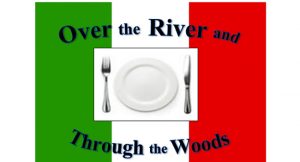 Wednesday August  4, 2021 – 7-9 p.m.
Thursday August 5, 2021 – 7-9 pm.
BY APPOINTMENT ONLY, 15 Minute Time Slots
Contact Kim Blacklock at chucknkim@sympatico.ca to book an appointment.
Email copies of the script available.
COVID protocols will be in place (Masking, contact tracing, social distancing)
Caledon Townhall Players Theatre
18365 Hurontario Street, Caledon Ontario
Director: Kim Blacklock
Producer: Heidi Kachel
Due to the COVID delay – two roles need to be recast.
PLOT:
Nick's parents retired and moved to Florida. He sees both sets of his grandparents every Sunday for dinner and this is the routine until he tells them that he's been offered his dream job across the country.  It would take him away from his beloved grandparents and the news doesn't sit so well. Thus begins a series of schemes by the grandparents to entice Nick to stay.
Nunzio Cristano –
Main character's
 paternal grandfather. He is in his 70's, but the person playing him can be 45-80
Caitlin O'Hare – Family friend and potential love interest of main character.  Late 20's to mid 30's