Drinking Habits 2 : Caught in the Act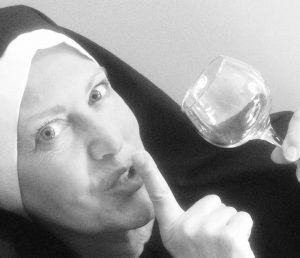 Drinking Habits 2: Caught in the Act
a farce by Tom Smith  
Produced by special arrangement with Playscripts, Inc.  
Evenings  November 2, 3, 4, 10 & 11, 2017
Dinner Theatre  November 4, 2017
Matinee  November 11, 2017
The Sisters of Perpetual Sewing miss the excitement of the old days when they were saving convents and reuniting long-lost families. So when they learn that the orphanage where Paul and Kate grew up is in peril, they can't wait to come to the rescue. Everyone pitches in to mount a play to raise money, but it's no easy feat when Kate's expecting any day, Sally's hiding from stage-fright-stricken Paul after another flight from the altar, Mother Superior's acting is unexpectedly narcoleptic, and the sisters' award-winning wine keeps getting switched with the grape juice. The merry mix-ups multiply in this warm and winsome sequel to last season's Drinking Habits.