Point of Viewing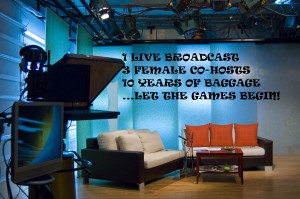 A Comedy by Todd McGinnis
By kind permission of Playing After Dark Inc.
Evenings: May 4, 5, 6, 12, 13, 2017
Dinner Theatre: May 13, 2017
Matinee: May 13, 2017
When a technical mishap destroys their pre-taped, prime time, 10thAnniversary Special, the three women who host TV's most popular daytime talk show, Point of View, are forced to replace it with a last-minute, live-to-air broadcast. But, behind-the-scenes politics, tell-all tabloid stories and rumours about the show's fate, have lit the fuse on an emotional powder keg.
With no chance for edits or re-takes, 10 years of off-camera differences are about to explode – ON AIR!